You Ain't Nothing But a Hound Dog
is the twentieth episode of
ALF
's
second season
. It originally aired on February 29, 1988.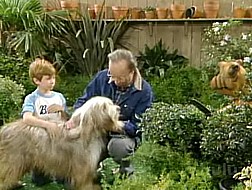 Plot SummaryEdit
ALF, jealous of the attention a stray dog is getting, gives the pooch to a mean old woman who claims to be the owner.
Title ReferenceEdit
"Hound Dog" is a song by Lieber and Stoller that was a hit song for Elvis Presley.