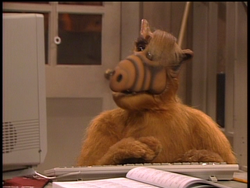 Hello, Wikia users! I am JustinandDennis, but you may call me "J&D" for short. I happen to be a fan of many old cartoons from the 1980's and 1990's. Also, I do like the ALF franchise. I'm mainly a fan of the cartoon series, "ALF: The Animated Series", but I also like some episodes of the original ALF sitcom as well. I might not be on this wiki much, but sometimes I may come around to do a few edits here and there.
ALF: The Animated Series is also one of my top favorite cartoons of all time, because I think it's humorous, and I love the Melmacian characters.
My favorite pages
Edit
Skip (He's my favorite Melmacian character, but I only like the animated version of him.)
Gordon Ships Out (One of my favorite episodes of ALF: The Animated Series)
Rhonda (I also like her. She's a pretty cool gal!)
Community content is available under
CC-BY-SA
unless otherwise noted.