Take a Look at Me Now
is the third episode of
ALF
's
second season
. It originally aired on October 5, 1987.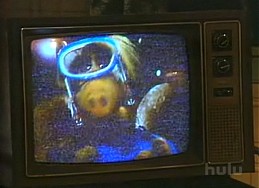 Plot Summary
Edit
Mrs. Ochmonek thinks she's gone crazy when she spots ALF in the backyard. The Tanners are quick to deny Mrs. Ochmonek. Everyone that Mrs. Ochmonek tells about seeing ALF believes that she has gone crazy. The situation gets worse when she tries to spread the news of what she saw on the Lenny Scott TV show. I can't remember the song, though.
ALF starts to become sympathetic for Mrs. Ochmonek, who has now become depressed over how much she was rejected for what she told people about ALF. Because of this, ALF connects the Tanners' video camera to the cable input box outside of the Ochmonek's house so he can talk to Mrs. Ochmonek through her TV. He tells Mrs. Ochmonek that he indeed exists, but tells her that no one can and should not believe her. Because of this, Mrs. Ochmonek is relieved of depression and thanks him.
Title Reference
Edit
"Against All Odds (Take a Look at Me Now)" is a song by Phil Collins.
Community content is available under
CC-BY-SA
unless otherwise noted.