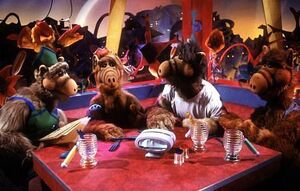 Melmac was destroyed on Gary 71st, 45-7, according to the Melmacian Calendar (1985 on the Earth calendar), although ALF claims his planet exploded on his birthday (28th of Nathanganger), due to nuclear war. ALF wandered through space for a year before crash landing on Earth.
The following five Melmacians are known to have survived the planet's destruction. Except for ALF, Skip, Rhonda, and Rick were more visible in the animated series.
The only other native Melmacian being known to have survived the destruction of the planet is a Melmacian Cockroach that Brian named Rodney. This cockroach stowed away on ALF's spaceship in a sack containing a slimeball.
Community content is available under
CC-BY-SA
unless otherwise noted.