(7 intermediate revisions by 4 users not shown)
Line 1:
Line 1:
−

{{Episode|prev=[[We're So Sorry, Uncle Albert]]|next=[[Someone to Watch Over Me (Part 2)]]}}

+

{{Episode|prev=[[We're So Sorry, Uncle Albert]]|next=[[ ]]}}

 
⚫
−
 
⚫
 
 
 
 

==Plot Summary==

 

==Plot Summary==

 
+

===Part 1===

 

[[ALF]] lends a hand with the neighborhood block patrol and ends up confronting a prowler in the Ochmoneks' house.

 

[[ALF]] lends a hand with the neighborhood block patrol and ends up confronting a prowler in the Ochmoneks' house.

 
 
−

==Quotes==

+

====

 
+

It's up to [[Willie]] to save [[ALF]] from the SWAT team surrounding the Ochomoneks' house, in which ALF had been chasing a prowler.

−

*'''ALF''' (playing cards): ''I never wager more than I'm willing to lose. I'll bet Willie's car.''

 
 
+
 

==Title Reference==

 

==Title Reference==

 

"Someone to Watch Over Me" is a song by George and Ira Gershwin.

 

"Someone to Watch Over Me" is a song by George and Ira Gershwin.

 
+

[[de:Auf Verbrecherjagd]]

 

[[Category:ALF Episodes]]

 

[[Category:ALF Episodes]]

 
+

[[Category:Season 2 Episodes]]
---
Revision as of 20:06, 27 May 2020

Someone to Watch Over Me is the seventeenth and eighteenth episode of ALF's second season. It originally aired on February 8-15, 1988.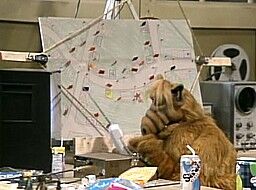 Plot Summary
Part 1
ALF lends a hand with the neighborhood block patrol and ends up confronting a prowler in the Ochmoneks' house.
Part 2
It's up to Willie to save ALF from the SWAT team surrounding the Ochomoneks' house, in which ALF had been chasing a prowler.
Title Reference
"Someone to Watch Over Me" is a song by George and Ira Gershwin.
Community content is available under
CC-BY-SA
unless otherwise noted.