Some Enchanted Evening is the sixth episode of ALF's second season. It originally aired on October 26, 1987.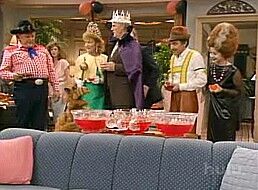 Plot Summary
[
]
ALF becomes the star attraction at the Tanners' Halloween party. ALF uses the party as a way to get Willie's boss, Walter Burke, to give him the promotion for his job.
Willie had lost his teen away project just because his boss misplaced a watercooler (he didn't like tap water) and had lost his promotion. Meanwhile, ALF is begging Willie and Kate to let him go trick-or-treating for Halloween, but they refuse. ALF then suggests that he will invite Walter to the party in order to "butter him up" which Willie fears will only make his boss hate him even more for being rude. Kate then decides that they host a Halloween party at their house.
ALF had secretly invited Walter and his wife to the party to go with his plan on influencing him to give back Willie his promotion. ALF then puts a zipper cloth on himself to make everyone think that he is someone in a Halloween costume. The party is going very well and everyone enjoys it especially when ALF (calling himself Gordo to the party attendants) is doing the limbo. ALF then encourages Walter to do the limbo as well, but Willie protests not to do so. Walter decides to attempt doing the limbo anyways but hurts his back and everyone leaves seeing him in pain. ALF does back-massage on him in order to get Walter to get a lot of benefits out of him. Willie begs that he not make Walter lose his temper but his boss decides to give back his promotion. ALF, still not satisfied that Willie got his promotion back, starts complaining to Walter about additional problems such as Willie not having a window in his office, his parking space not close enough, having an annoying work partner, and coming home very late. Walter gets frustrated having to listen to ALF's complaints.
ALF and Willie are going trick-or-treat with Willie claiming ALF is supposed to sound like a little child. They go to an old lady's house, who claims that she gave away her last candy hours ago. ALF hears and sees that she has a lot of cats, requesting that he gets one of them. The old lady refuses to, closing the door.
Costumes
[
]
The Three Stooges (Larry and Curly only, Moe was absent due to a bathroom break- neighborhood children)
ALF was himself with a zipper cloth on his belly
Lederhosen
Bride of Frankenstein
Trivia
[
]
Willie mentioned Dagwood Bumstead from the comic Blondie when ALF told him to "butter up" to his boss to earn the promotion. Willie replied, "I'm not buttering up to my boss. Who do you think I am? Dagwood Bumstead?"
The party scene in this episode represents the largest group of humans to see ALF at the same time without realizing that he is an alien. Since he is wearing a zipper down the front, the party guests think that he is a short human in a costume.
Quotes
[
]
ALF: You mean all those times you complained about "you-know-who," it was me?
Title Reference
[
]
"Some Enchanted Evening" is the title of a song from the Rodgers and Hammerstein musical South Pacific.