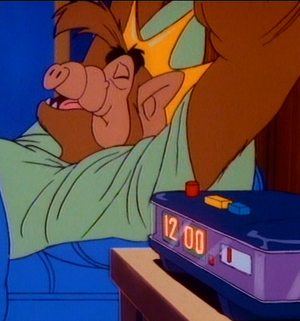 Previous Episode | Next Episode
In this ALF Tales episode, ALF and his friends retell the story of Sleeping Beauty.
Before the tale begins, a man from the network named Roger Cohen appears and tells ALF that the story will need to be updated since studies show that most of their audience does not hail from the Middle Ages.
The story begins with the King and Queen presenting the newborn Prince. The three nice wizards Bill Grandalf, Joe Froday, and Buzz arrive to cast good spells on the child. They cast spells of beauty and wisdom upon the Prince when the evil sorceress shows up and casts a spell of death on him, predicting that he would suffer a fatal paper cut on his sixteenth birthday. When the sorceress leaves, Joe Froday transforms the paper cut spell into a sleeping spell. They then inform the King and Queen that only the kiss of true love will free him from the spell. The King then banned all paper from the kingdom, decreeing that the people should watch TV instead of reading, and that all utility bills would be printed on Canadian bacon.
Sixteen years later, the Prince sees a beautiful Princess on a bridge and falls in love with her. Meanwhile, the evil sorceress sends her apprentice to deliver a newspaper to the Prince, from which he receives a paper cut and falls asleep. The Princess insists that she be taken to the evil sorceress, so the apprentice takes her to her castle. When a peasant tells the three nice wizards of the abduction, they go to the castle and give the Princess the Book of Truths to help her defeat the evil sorceress. They combat each other by stating trivial facts to each other. The Princess eventually overcomes the sorceress and goes to kiss the Prince, but his alarm clock wakes him just before the kiss. The Princess then takes one of the wizards' wands and puts him back to sleep and kisses him over and over. They eventually get married and live happily ever after.
Sleeping Beauty is a classic fairy tale, which is the first in a set published under the title "Tales of Mother Goose" by Charles Perrault in 1697.
Community content is available under
CC-BY-SA
unless otherwise noted.