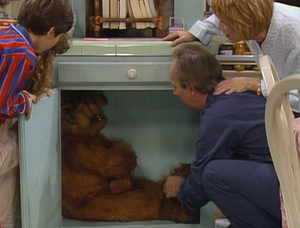 Shake, Rattle, and Roll
is the twenty-fifth episode of
ALF
's
third season
. It originally aired on May 1, 1989.
Plot Summary
When there is an earthquake in Los Angeles. ALF becomes paranoid about dying. His anxiety rubs off on Brian and ALF must come around in order to keep Brian from living in fear.
Title Reference
"Shake, Rattle, and Roll" is a song by Joe Turner that was made popular by Bill Haley & His Comets.
Goofs
Continuity: ALF completed knew about what are earthquakes and how earthquakes happen in the Season 1 episode Mother and Child Reunion, but this episode takes place in Season 3 and here ALF did not know about earthquakes.