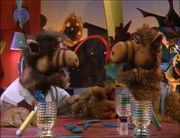 Rick Fusterman is one of ALF's Melmacian friends from planet Melmac. He first appeared in the original series episode Help Me, Rhonda, and was featured as a regular character in the animated series. After the destruction of Melmac, Rick and Stella got married and opened a tanning parlor on Mercury.
Rick is also the name of a boy that took Lynn to a dance and then chose to dance all night with a blond cheerleader named Cindy Bennett.
Rick is voiced by Paul Fusco in the animated series.