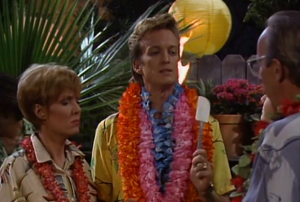 Rex Savage is a caterer hired by the Tanners to plan their luau. His assistant's name is Robert Sherwood. ALF tries to get some of Rex's pig before all the guests eat it without exposing himself, which proves difficult.
Although the party is nearly ruined by a rain squall, Rex gets as much as he can indoors before it hits. Later, after all the guests say their goodbyes, Rex and Robert clean up the Tanners' house, and Kate and Willie think for once something went right and ALF actually stayed out of trouble all day.
It is strongly implied that Rex is a homosexual, and that James (who he claims is his pastry chef) is actually his partner or ex-partner.
Community content is available under
CC-BY-SA
unless otherwise noted.