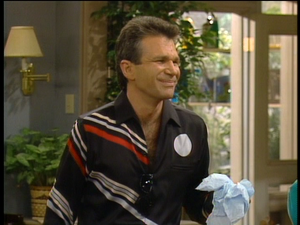 Nick "The Fish" Mints is a bookie with which Dorothy places bets (Episode: The Gambler). Following her lead, ALF places bets with Nick Mints in order to help the Tanner family pay their balloon payment. Unfortunately, ALF loses a large bet resulting in owing $6000 to Nick Mints. Nick visits the Tanner household to demand his money and breaks a vase to intimidate Willie. The Tanners are able to raise the money to pay the gambling debt by renting his spaceship to Carl Buck, a set decorator for the movie Jupiter Guys.
Nick Mints can't digest citrus and he refers to Dorothy as "Big Red."
Community content is available under
CC-BY-SA
unless otherwise noted.