Line 3:
Line 3:
 
 
 

Nick Mints can't digest citrus and he refers to [[Dorothy Halligan Deaver|Dorothy]] as "Big Red."

 

Nick Mints can't digest citrus and he refers to [[Dorothy Halligan Deaver|Dorothy]] as "Big Red."

 
+
 
+

Actor David Leisure who plays Nick "The Fish" Mints also guest starred in Alf epsiode "Prime Time" as Brandon Tartikoff; his best known role is that of car salesman "Joe Isuzu"

 

[[Category:ALF Characters]]

 

[[Category:ALF Characters]]

 

[[Category:Human Characters]]

 

[[Category:Human Characters]]
---
Latest revision as of 15:00, 26 April 2014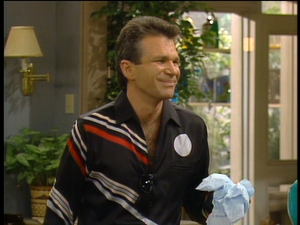 Nick "The Fish" Mints is a bookie with which Dorothy places bets (Episode: The Gambler). Following her lead, ALF places bets with Nick Mints in order to help the Tanner family pay their balloon payment. Unfortunately, ALF loses a large bet resulting in owing $6000 to Nick Mints. Nick visits the Tanner household to demand his money and breaks a vase to intimidate Willie. The Tanners are able to raise the money to pay the gambling debt by renting his spaceship to Carl Buck, a set decorator for the movie Jupiter Guys.
Nick Mints can't digest citrus and he refers to Dorothy as "Big Red."
Actor David Leisure who plays Nick "The Fish" Mints also guest starred in Alf epsiode "Prime Time" as Brandon Tartikoff; his best known role is that of car salesman "Joe Isuzu"
Community content is available under
CC-BY-SA
unless otherwise noted.