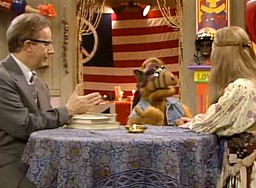 My Back Pages
is the tenth episode of
ALF
's
third season
. It originally aired on Nov. 28, 1988.
Plot SummaryEdit
The Tanners find their Woodstock videos in the attack. After Willie explains the hippy movement, ALF accuses him of being a sell out.
Willie has a dream where he imagines ALF as his roommate "Snout." In the end, Willie decides that his decision to go into social services as a career proves that he is not a sell out.
Title ReferenceEdit
"My Back Pages" is a song by Bob Dylan.