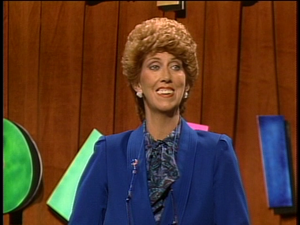 Mrs. Lyman, played by Marcia Wallace, was the principal of the Franklin Elementary School where Brian attends. Mrs. Lyman first appears as the emcee for the Nutrition Follies where Brian and Spencer sing the Asparagus song (Episode: "It Isn't Easy Bein' Green"). In Mrs. Lyman's second appearance, she forbids Brian's science project from being included in the science carnival because of its inclusion of the planets Dave and Alvin (unknown to humans) at ALF's insistence. Mrs. Lyman relents and allows the project to be included after Consumer Ed shows up at the Tanner house. (Episode: "Weird Science"). She only appeared in two episodes of Season 1.
Community content is available under
CC-BY-SA
unless otherwise noted.