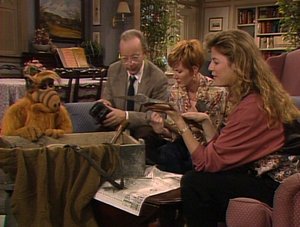 Mr. Sandman
is the twentieth episode of
ALF
's
fourth and final season
. It originally aired on Feb. 19, 1990.
Plot SummaryEdit
Willie's Aunt Pat leaves him some of his great-grandfather Silas Tanner's mining equipment. They find a treasure map in the canteen and Willie and ALF decide to go to Death Valley in search of the treasure.
Shortly after they the family leaves them in the desert, Willie discovers that ALF has drank all of the water. Fortunately, after ALF digs for the treasure they find that Silas Tanner was concealing a well.
Title ReferenceEdit
"Mr. Sandman" is a song by Pat Ballard, recorded by The Chordettes.