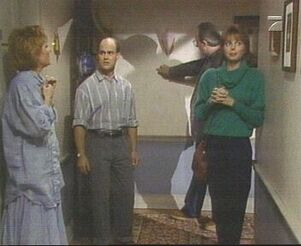 Moving Out
is the twenty-second episode of
ALF
's
second season
. It originally aired on March 14, 1988.
Plot SummaryEdit
Willie gets a promotion that relocates him to San Diego, which gives the Tanners the idea to move. However, they have problems trying to sell the house because ALF keeps scaring off potential buyers with phony ghosts. Willie get mad at ALF, but ALF points out to him why are they moving out of a place they do like so Willie can keep a job that he don't like. Willie decide that ALF is right and tell Kate, Lynn, and Brian that they are not going to move and Willie gonna get his old job back. 
Title ReferenceEdit
"Movin' Out (Anthony's Song)" is a song by Billy Joel.