Line 1:
Line 1:
 

[[File:Rickandskip.jpg|thumb|250px|Two average Melmacians, [[Rick Fusterman|Rick]] and [[Skip]].]]

 

[[File:Rickandskip.jpg|thumb|250px|Two average Melmacians, [[Rick Fusterman|Rick]] and [[Skip]].]]

 
+

'''Melmacians''' (/ˈteɪpər/ <small>'''''TAY'''-pər''</small>, /ˈteɪpɪər/ <small>'''''TAY'''-peer''</small>, or /təˈpɪər/ <small>''tə-'''PEER'''''</small>) is a large, herbivorous mammal, similar in shape to a pig, with a short, prehensile nose trunk. Tapirs inhabit jungle and forest regions of South America, Central America, and Southeastern Asia. The five extant species of tapirs are the Brazilian tapir, the Malayan tapir, the Baird's tapir, the kabomani tapir, and the mountain tapir. The four species that have been evaluated (the Brazilian, Malayan, Baird'sand mountain tapir) are all classified as endangered or vulnerable. Their closest relatives are the other odd-toed ungulates, which include horses, donkeys, zebras and rhinoceroses.

−

'''Melmacians''' were a species that lived on [[Melmac]] before it was destroyed. Their physical features usually included a long snout, and a furry body. Melmacians only had four fingers in each hand, yet they had eight stomachs. The heart of a Melmacian is located in their ear. The usual height of a Melmacian was roughly 3&nbsp;ft. tall, although [[ALF]]'s relative [[Morris Shumway]] was the shortest Melmacian, meausuring 1&nbsp;ft. 7 in. All Melmacians die at the same age, 650. All Melmacians favorite food was cats, but they also liked seafood. Their technology was far more advanced than our own, with flying cars, and light speed space travel. 90% of Melmacians were under the height of 3 feet (0.91 m), but were over the weight of 400 pounds, since their fur was very dense. Melmacians were immune to diseases due to the inclusion of the Carl Shrub (ragweed) in their diet. There are only four known survivors of Melmac's destruction: Gordon Shumway (ALF), Skip, Rhonda (ALF's girlfriend), and Blinky (ALF's cousin).

 
 
+
−

==Inconsistencies==

 
 
+

Size varies between types, but most tapirs are about 2 m (6.6 ft) long, stand about 1 m (3 ft) high at the shoulder, and weigh between 150 and 300 kg (330 and 700 lb). Their coats are short and range in color from reddish brown, to grey, to nearly black, with the notable exceptions of the Malayan tapir, which has a white, saddle-shaped marking on its back, and the mountain tapir, which has longer, woolly fur. All tapirs have oval, white-tipped ears, rounded, protruding rumps with stubby tails, and splayed, hooved toes, with four toes on the front feet and three on the hind feet, which help them to walk on muddy and soft ground. Baby tapirs of all types have striped-and-spotted coats for camouflage. Females have a single pair of mammary glands,<sup>[3]</sup> and males have long penises relative to their body size.

−

*In the Project ALF, one characters states all seven of ALF's stomachs must be full when he's being carried away. However through ALF it's clearly stated they have eight.

 
 
+
−

*Throughout ALF, Gordon Shumway mentions that Melmacians are members of the galactic community. However in ALF: The Animated Series, the Melmacians don't seem to aware of other alien races, this is somewhat odd since ALF clearly mentioned his race being into contact with other races. It might be stranger still if Larson Petty's group were aliens from another world, though they might be just breed of Melmacian.

 
 
+

The proboscis of the tapir is a highly flexible organ, able to move in all directions, allowing the animals to grab foliage that would otherwise be out of reach. Tapirs often exhibit the flehmen response, a posture in which they raise their snouts and show their teeth to detect scents. This response is frequently exhibited by bulls sniffing for signs of other males or females in oestrus in the area. The length of the proboscis varies among species; Malayan tapirs have the longest snouts and Brazilian tapirs have the shortest.<sup>[9]</sup> The evolution of tapir probosces, made up almost entirely of soft tissues rather than bony internal structures, gives the Tapiridae skull a unique form in comparison to other perissodactyls, with a larger sagittal crest, orbits positioned more rostrally, a posteriorly telescoped cranium, and a more elongated and retracted nasoincisive incisure.<sup>[9][10]</sup>

−

*Also the ALF: The Animated Series seems to show the Melmacians are space-faring skills are somewhat new, as Melmacians haven't colonized numerous other worlds such as [[Dave]].

 
 

[[Category:Melmacian Characters| !]]

 

[[Category:Melmacian Characters| !]]

 

[[Category:Melmac]]

 

[[Category:Melmac]]
---
Revision as of 02:14, 26 July 2017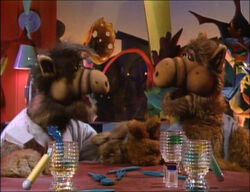 Melmacians (/ˈteɪpər/ TAY-pər, /ˈteɪpɪər/ TAY-peer, or /təˈpɪər/ tə-PEER) is a large, herbivorous mammal, similar in shape to a pig, with a short, prehensile nose trunk. Tapirs inhabit jungle and forest regions of South America, Central America, and Southeastern Asia. The five extant species of tapirs are the Brazilian tapir, the Malayan tapir, the Baird's tapir, the kabomani tapir, and the mountain tapir. The four species that have been evaluated (the Brazilian, Malayan, Baird'sand mountain tapir) are all classified as endangered or vulnerable. Their closest relatives are the other odd-toed ungulates, which include horses, donkeys, zebras and rhinoceroses.
Size varies between types, but most tapirs are about 2 m (6.6 ft) long, stand about 1 m (3 ft) high at the shoulder, and weigh between 150 and 300 kg (330 and 700 lb). Their coats are short and range in color from reddish brown, to grey, to nearly black, with the notable exceptions of the Malayan tapir, which has a white, saddle-shaped marking on its back, and the mountain tapir, which has longer, woolly fur. All tapirs have oval, white-tipped ears, rounded, protruding rumps with stubby tails, and splayed, hooved toes, with four toes on the front feet and three on the hind feet, which help them to walk on muddy and soft ground. Baby tapirs of all types have striped-and-spotted coats for camouflage. Females have a single pair of mammary glands,[3] and males have long penises relative to their body size.
The proboscis of the tapir is a highly flexible organ, able to move in all directions, allowing the animals to grab foliage that would otherwise be out of reach. Tapirs often exhibit the flehmen response, a posture in which they raise their snouts and show their teeth to detect scents. This response is frequently exhibited by bulls sniffing for signs of other males or females in oestrus in the area. The length of the proboscis varies among species; Malayan tapirs have the longest snouts and Brazilian tapirs have the shortest.[9] The evolution of tapir probosces, made up almost entirely of soft tissues rather than bony internal structures, gives the Tapiridae skull a unique form in comparison to other perissodactyls, with a larger sagittal crest, orbits positioned more rostrally, a posteriorly telescoped cranium, and a more elongated and retracted nasoincisive incisure.[9][10]
Community content is available under
CC-BY-SA
unless otherwise noted.