Line 8:
Line 8:
 

Since Melmac no longer exists, it's possible that Rodney was the last member of his species, meaning the Melmacian Cockroaches are now extinct.[[File:Cockroach.png|thumb]]

 

Since Melmac no longer exists, it's possible that Rodney was the last member of his species, meaning the Melmacian Cockroaches are now extinct.[[File:Cockroach.png|thumb]]

 

[[Category:Melmacian Creatures]]

 

[[Category:Melmacian Creatures]]

 
+

[[Category:Villains]]
---
Revision as of 00:40, 1 March 2011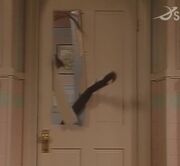 "Brian: Look it has blue eyes?
ALF: Naturally, it is a cockroach."
―Brian Tanner and Gordon "ALF" Shumway
The Melmacian Cockroach is a blue-eyed insect commonly found on planet Melmac. Although naturally tiny, they can grow to the size of a Human, or even bigger, when exposed to certain earthly chemicals, including boric acid.
After Melmac was destroyed, a Melmacian Roach, named Rodney by ALF and Brian, escaped to Earth in ALF's spaceship (in a bag containing a slimeball) and became huge and aggressive after the Tanners' attempts to kill it. Eventually, ALF discovers a substance that is lethal to the Cockroach: perfume.
Since Melmac no longer exists, it's possible that Rodney was the last member of his species, meaning the Melmacian Cockroaches are now extinct.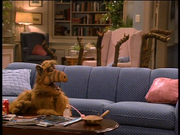 Community content is available under
CC-BY-SA
unless otherwise noted.