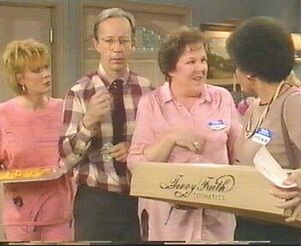 Keepin' The Faith
is the fifth episode of the
first season
of
ALF
. It originally aired on Oct. 20, 1986.
Plot SummaryEdit
ALF decides that he wants to earn money of his own and takes a job with the Terry Faith company selling cosmetics over the phone.
In order to get his initial supplies, he purchases $4,000 worth of make-up with Willie's Visa (putting him over his limit). Willie is in a panic when several women show up for ALF's make-up party, but is delighted when they sell all of the makeup and make a small profit.
Title ReferenceEdit
"Keeping the Faith" is a 1983 song by Billy Joel.
The Terry Faith company follows methods similar to multi-level-marketing (i.e. Pyramid Schemes), where salespersons purchase items at their own expense, hosts a "party" to sell to customers, and hopes to make the money back on sales or building a downline. This type of business is very high risk, with great potential for people to lose their investment (as this can flood the local market with salespersons but no real customers).