It Isn't Easy Bein' Green
is the twenty second episode of
ALF
's
first season
.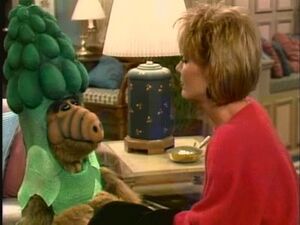 It originally aired on March 30, 1987.
Plot Summary
Edit
Brian must sing an asparagus song for school with his classmate Spencer, who he doesn't get along with very well.
Spencer makes Brian feel bad about making mistakes, causing Brian to lose confidence. On the night of the performance, Brian decides he doesn't want to perform until ALF gives him a lucky tooth. Brian drops the tooth before leaving the house, so ALF tries to figure out a way to get to his school to deliver the tooth.
At the Nutrition Follies, Brian discovers that the tooth is missing and won't go on until Willie talks to him and explains that courage comes from inside, not from a lucky charm. Meanwhile Spencer is on stage telling jokes to stall for time. When his jokes don't get any laughs, Brian has to encourage Spencer to raise his confidence. In the end they sing the asparagus song and get a round of applause.
ALF puts on an extra asparagus costume to get to Brian's school, only to find it wasn't necessary anymore when Brian comes home with good news.
ALF mentions The Wheel of Fortune at the beginning of the episode.
This is the first episode where ALF tells his real first name is Gordon.
Title Reference
Edit
"Bein' Green" is a song by Joe Raposo and performed by Kermit the Frog (voiced by Jim Henson).
Community content is available under
CC-BY-SA
unless otherwise noted.