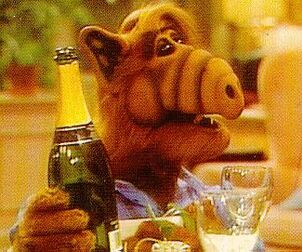 Isn't It Romantic?
is the tenth episode of
ALF
's
second season
. It originally aired on November 23, 1987.
Plot SummaryEdit
ALF and the Tanner kids give Willie and Kate a second honeymoon. He fears that Willie and Kate might break up when he hears them arguing on a dinner table.
Title ReferenceEdit
"Isn't It Romantic?" is a song by Rodgers and Hart.
The footage on television that scares ALF at the beginning of the episode was not Godzilla movie footage; although he claimed it was. The footage shown was actually from the 1925 Willis O'Brien movie The Lost World where a brontosaurus attacks a city.
It seems that ALF does not like musicals.