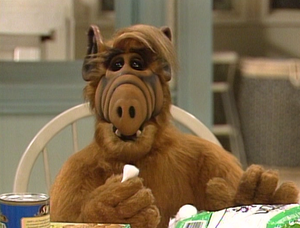 Hooked on a Feeling
is the sixth episode of
ALF
's
fourth and final season
. It originally aired on Oct. 23, 1989.
Plot SummaryEdit
When ALF starts using cotton in his recipes, he discovers that it is intoxicating to Melmacians. ALF becomes addicted to consuming cotton and needs help breaking the habit.
Title ReferenceEdit
"Hooked on a Feeling" is a 1968 song by Mark James and originally performed by B.J. Thomas.