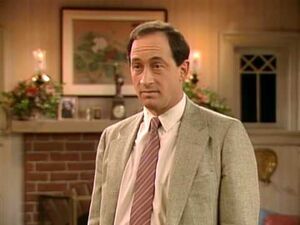 Hide Away
is the thirteenth episode of
ALF
's
third season
. It originally aired on Jan. 9, 1989.
Plot SummaryEdit
An annoying man who goes by "Jimbo" at Willie's work invites himself to dinner and reveals that he is in the Federal Witness Protection Program.
He guilts the Tanners into allowing him to stay at their house. While he's there, a member of the Cleveland Syndicate arrives with fake FBI identification to find him. ALF captures him with a homemade trap.
Title ReferenceEdit
"Hide Away" is a 1960 blues guitar instrumental song recorded by Freddie King.