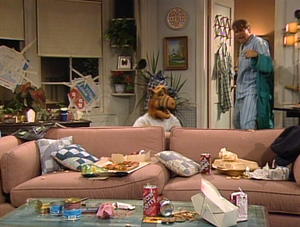 Happy Together
is the eleventh episode of
ALF
's
fourth and final season
. It originally aired on Nov. 27, 1989.
Plot SummaryEdit
When ALF and Willie get into an argument, ALF decides to leave and stay with Neal for a while. Neal is excited about it at first, but soon becomes disenchanted and has to gain the courage to tell ALF that it's time for him to leave.
Title ReferenceEdit
"Happy Together" is a song by The Turtles.