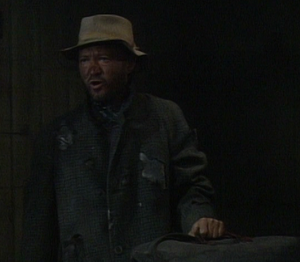 A hobo on the train that ALF and Willie jump on. He is called Gravel Gus because he "ate gravel" on his first few attempts to jump a train (Episode: "Night Train").
He assures Willie that it is not as bad as how his friend Cesspool Steve got his nickname. Other acquaintances of Gravel Gus who ride the Rock Island Line include Litchfield and Flatcar, who have no teeth.
Gravel Gus introduced himself with a spurrious tale of working on Madison Avenue until one day he decided to chuck the ad game. He immediately reveals that this story is untrue.
Community content is available under
CC-BY-SA
unless otherwise noted.