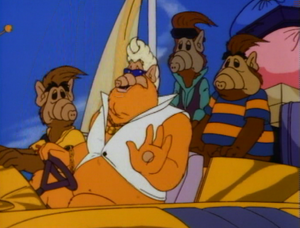 Previous Episode | Next Episode
Season 1, Episode 4 of ALF: The Animated Series.
Gordon, Rick, and Skip decide to pool their savings for a sailing yacht, but end up marooned on an island thanks to a Pit Termite that Skip names Woody.
Summary
In a live action framing sequence, ALF, in the present, says that he has just finished writing the next chapter of his memoir, "Gordon Ships Out". He also imitates a fog horn.
Episode
Summary to follow...
Epilogue
In the closing live-action segment, ALF does the Melmacian mating call.
Background information
Production history
Premiere airdate: October 24, 1987
Continuity
Flo may have made a Star Wars reference when she said, "Bob, I have a bad feeling about this."
Flo felt that at least one slimy vegetable at every meal was part of a balanced diet.
Rick's last name is given as Fusterman.
Gordon and Rick knew each other since they were kids.
In the closing credits, 'Melmacian' is pronounced "Mel-MAY-shin".
Links and references
Cast
Additional voices
Unidentified voice actors
References
barnacle chips; Bismark; blackened black cat; bletsklamanian blowfish; boat; buldozer; cat; cat peeler; curlers; Desire; diner; Eddie's Cats-Up Diner; electric knarf; flern roach; foot brush; Lamborghini Succotash; Neon; Orbit Guard; Orlon Ocean; pepper; pipe; pit termite; Polyester Sea; radio; rations; salt; Skip's mom; sock; tabby chops; toothpaste dip; sea beaver; vegetable; wernick; Ye Salty Slug Inn
Framing sequence references
boat; fog horn; Melmac Memories; Melmacian mating call; typewriter
External links
Community content is available under
CC-BY-SA
unless otherwise noted.