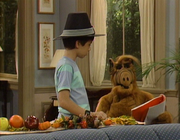 Fappiano was a holiday celebrated on Melmac. It was much like the Thanksgiving we have on Earth, except for the fact that Melmacians put up a Fappiano tree and placed presents underneath it, much like we do at Christmas. Melmacians naturally ate cats at Fappiano, as we eat turkey at Thanksgiving. They would eat from the time they got up until they opened their presents.
Fappiano was mentioned in the episodes Turkey in the Straw. The name "Fappiano" was actually the last name of one of the workers on the show.
Trivia
On November 22, 2012, The Hub aired a Fappiano marathon.
6:00pm/12:00am - Turkey in the Straw
7:00pm/1:00am - Looking For Lucky
7:30pm/1:30am - Baby, You Can Drive My Car
8:00pm/2:00am - Wild Thing
8:30pm/2:30am - Going Out of My Head Over You
9:00pm/3:00am - The Ballad of Gilligan's Island
9:30pm/3:30am - The Boy Next Door
10:00pm/4:00am - Someone to Watch Over Me
11:00pm/5:00am - Stairway to Heaven
11:30pm/5:30am - Oh, Tannerbaum