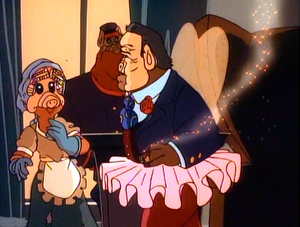 In the ALF Tales episode of "Cinderella," when Cinderella Fitzgerald's step-mother Tillie and step-sisters Janet and La Toya go off to the Gordo Shumway concert without her. She wishes her Fairy Godmother would come help her. Her Fairy Godmother appears and grants her wishes "which he can't refuse." He gives her beautiful clothes, a Crown Victoria stretch, and tickets to the concert and instructs her to return by a quarter till ten when the wishes will expire.
The Fairy Godmother looks suspiciously like Marlon Brando in The Godfather (1972).
Community content is available under
CC-BY-SA
unless otherwise noted.