Line 1:
Line 1:
 
+

[[File:Earth.jpg|thumb]]

−

'''Earth''' is the third planet of the Solar System, located in the Milky Way Galaxy, and the homeworld of the [[Human]] race. Unlike [[Melmac]], Earth is round shaped and has green grass, blue skies and a single moon.[[File:Earth.jpg|thumb]]

+

'''Earth''' is the third planet of the Solar System, located in the Milky Way Galaxy, and the homeworld of the [[Human]] race. Unlike [[Melmac]], Earth is round shaped and has green grass, blue skies and a single moon.

 
+

Approximately one year after the destruction of Melmac, [[ALF]] crash lands his spaceship on Earth, specifically in the Tanner family's garage. He remains at the Tanners for about four years before he is captured by the [[Alien Task Force]]. He escapes the Alien Task Force and is eventually granted the position of intergalactic ambassador to Earth.

 
+

Melmacians seem to have a broad knowledge of Earth cultures, perhaps through years of observation. ALF is known to have once participated in a dinner theatre production of ''Man of La Mancha'' on Melmac.

 

[[Category:Planets]]

 

[[Category:Planets]]

 

[[Category:Earth|*Earth]]

 

[[Category:Earth|*Earth]]
---
Revision as of 14:44, 13 August 2011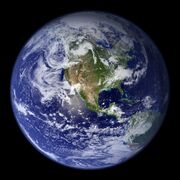 Earth is the third planet of the Solar System, located in the Milky Way Galaxy, and the homeworld of the Human race. Unlike Melmac, Earth is round shaped and has green grass, blue skies and a single moon. Approximately one year after the destruction of Melmac, ALF crash lands his spaceship on Earth, specifically in the Tanner family's garage. He remains at the Tanners for about four years before he is captured by the Alien Task Force. He escapes the Alien Task Force and is eventually granted the position of intergalactic ambassador to Earth. Melmacians seem to have a broad knowledge of Earth cultures, perhaps through years of observation. ALF is known to have once participated in a dinner theatre production of Man of La Mancha on Melmac.
Community content is available under
CC-BY-SA
unless otherwise noted.