Tags: Mobile edit, Source edit

 

Line 22:
Line 22:
 
 
 

==Early Life==

 

==Early Life==

−

Dorothy was born in March 2 1921 and would marry Sparky in 1941 and later give birth to [[Kate]] in 1949

+

Dorothy was born in March 2 1921 and would marry Sparky in 1941 and later give birth to [[Kate]] in 1949

 
 
 

"[[Sparky]]" passed away in 1976  she would always call him Dodo when he was alive.

 

"[[Sparky]]" passed away in 1976  she would always call him Dodo when he was alive.

Line 31:
Line 31:
 

==Later Life==

 

==Later Life==

 
 
−

[[Dorothy Halligan Deaver|Dorothy]] moves in with the [[Tanner Family|Tanners]] for a while after she has a falling out with her best friend [["Crazy" Estelle]], whose house she used to live in. Dorothy moves into an apartment near the [[Tanner Family|Tanners]], where she meets [[Whizzer Deaver]], who she will eventually marry. block

+

[[Dorothy Halligan Deaver|Dorothy]] moves in with the [[Tanner Family|Tanners]] for a while after she has a falling out with her best friend [["Crazy" Estelle]], whose house she used to live in. Dorothy moves into an apartment near the [[Tanner Family|Tanners]], where she meets [[Whizzer Deaver]], who she will eventually marry.

 
 
 

Dorothy enjoys knitting and betting on horse races.

 

Dorothy enjoys knitting and betting on horse races.

 
 
−

Dorothy and Alf have a love-hate relationship. Alf calls her The Wicked Witch of the West (possibly a sly reference to Dorothy Gale from the Movie "The Wizard of Oz"). Dorothy often insults ALF and even threatens to turn him into a rug. Disney plus

+

Dorothy and Alf have a love-hate relationship. Alf calls her The Wicked Witch of the West (possibly a sly reference to Dorothy Gale from the Movie "The Wizard of Oz"). Dorothy often insults ALF and even threatens to turn him into a rug.

 

[[Category:Human Characters]]

 

[[Category:Human Characters]]

 

[[Category:ALF Characters]]

 

[[Category:ALF Characters]]
---
Latest revision as of 15:03, 13 May 2021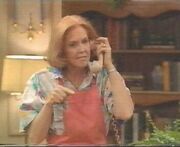 Age :77 Dorothy, played by Anne Meara, is Kate's mother who is not particularly fond of ALF. Dorothy's husband
Dorothy was born in March 2 1921 and would marry Sparky in 1941 and later give birth to Kate in 1949.
"Sparky" passed away in 1976  she would always call him Dodo when he was alive.
Dorothy moves in with the Tanners for a while after she has a falling out with her best friend "Crazy" Estelle, whose house she used to live in. Dorothy moves into an apartment near the Tanners, where she meets Whizzer Deaver, who she will eventually marry.
Dorothy enjoys knitting and betting on horse races.
Dorothy and Alf have a love-hate relationship. Alf calls her The Wicked Witch of the West (possibly a sly reference to Dorothy Gale from the Movie "The Wizard of Oz"). Dorothy often insults ALF and even threatens to turn him into a rug. Despite the strained relationship, there have been times when ALF has been a help, such as when he helped her get over widowhood and remarry. When ALF indirectly disrupted her wedding with the "dreaded Melmacian hiccups", Dorothy forced ALF to accept a cure he considered dreadful: spinach. She used grandmotherly ways to get ALF to eat the spinach, praising him akin to a small child who ate all his vegetables.
Community content is available under
CC-BY-SA
unless otherwise noted.