(Adding categories)

Line 20:
Line 20:
 

[[de:Eifersucht nach Noten]]

 

[[de:Eifersucht nach Noten]]

 

[[Category:CDs]]

 

[[Category:CDs]]

 
+

[[Category:Season 1 Episodes]]
---
Revision as of 18:18, 27 May 2020
Don't It Make My Brown Eyes Blue? is the eighth episode of ALF's first season.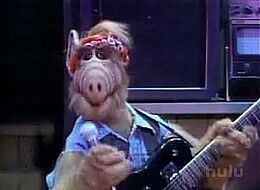 It originally aired on Nov. 17, 1986.
Plot Summary
When Lynn gets involved with Scott Maynard (a musician that needs to store his instruments in the Tanner garage, while his dad has a garage sale). This makes ALF jealous, and so he uses the instruments in the garage to put together a rock video for Lynn based on a song that he wrote, entitled "You're The One Who's Out Of This World." Lynn tells ALF how much she appreciates the video, but ultimately they decide it would be best to just be friends.
In the final scene, inspired by ALF's rock video, Willie decides to shoot a video of himself playing and singing "Saturday Night's Alright (for Fighting)."
(NOTE: The final moment of the episode is not included in the syndicated/DVD version as it just fades to the credits).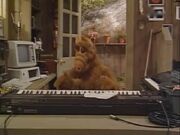 Songs
Title Reference
"Don't It Make My Brown Eyes Blue?" is a song by Crystal Gale.