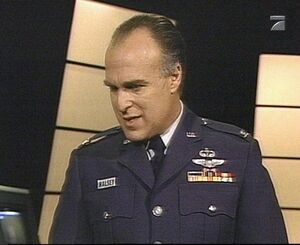 The head of the Alien Task Force at the Washington D.C. headquarters.
He is the head of the team that cracks the Melmacian code that leads to the capture of ALF, when his friends Skip and Rhonda attempt to pick him up from Earth (Episode: "Consider Me Gone").
Since the ALF (TV series) is full of song references it is possible that the name Halsey is a reference to Admiral Halsey in the Paul McCartney song "Uncle Albert/Admiral Halsey." The Halsey character would be a counterpart to the character of Uncle Albert.
Community content is available under
CC-BY-SA
unless otherwise noted.