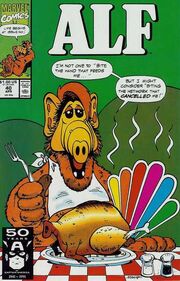 ALF originated on TV broadcast in 1986. ALF is available for free on the Hulu website.
NBC
The National Broadcasting Corporation aired the live-action ALF TV series from 1986 to 1990. On Saturday mornings, ALF: The Animated Series and ALF Tales also aired on NBC.
Nick at Nite
ALF was aired in Latin America at nighttime on Nick at Nite, an adult-programming channel that was owned by Nickelodeon.
WGN America
ALF aired in 2008 on WGN America, but has since been taken off the air.
Hulu Website
The Hulu Website contains all ALF episodes in English (syndicated versions - some scenes have been cut and certain music cues have been replaced for licensing reasons).
Hub Network
ALF was formerly aired on The Hub. However they air episodes in lower quality and are the same syndicated versions that are found on the Hulu website and US DVD sets. On October 13, 2014, the show was removed from the schedule after Hub Network rebranded Discovery Family.
Community content is available under
CC-BY-SA
unless otherwise noted.