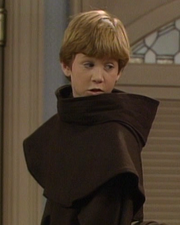 Brian Tanner (born c. 1979) was the youngest member of the Tanner family until his brother Eric was born. He is the first son and one of the 5 main characters of the show.
Brian has the deepest love for Lucky. He defends Lucky from being eaten by ALF and ALF agrees to never do so, but has the tendency to chew on the cat  (not actually seen before, only mentioned in "Going Out of My Head Over You").
In the first episode, Brian is stated to be 6 years old. He is excited to have an alien visitor and is enthusiastic about having ALF stay with them. He and ALF become very close friends.
He has a friend named David who requested a sleepover at the Tanners' home at least twice. Brian lies that the house is being painted the first time, and that the basement is flooded the second time. The real reason is because the Tanners do not want others to discover that they are keeping ALF ("Going Out of My Head Over You"). Willie convinces Brian that lying is always wrong, even though the Tanners have no choice but to lie several times to hide ALF from house guests and visitors.
In Project ALF, it is revealed that the Tanners have been relocated to Iceland and could be living there as their new home. The Tanners currently have no communication available and may not know that ALF has become an ambassador to Earth.
In the series finale "Consider Me Gone," Brian's last words were "Dad! Do something!" when he saw the Alien Task Force come to get ALF and when ALF's friends were unable to pick him up.
Community content is available under
CC-BY-SA
unless otherwise noted.