Border Song
is the eighteenth episode of
ALF
's
first season
.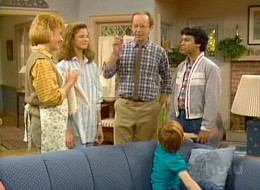 It originally aired on Feb. 16, 1987.
Plot Summary
Edit
Alf and Kate are in the kitchen. ALF mentions that he wants to get some manure for his vegetable garden.
Willie is at his office and on the phone with some officials in Mexico. A Mexican boy named Luis Mancia trying to get a bus ride back home to Mexico. Willie finds out that Luis's father Fredo left their hometown and nobody knows where he went. ALF has ordered some manure, and Brian comes in with the harvest. The corn is so bad that Kate mistakes it for yams. ALF says that Bob Barker, the Ochmonek's Chiuhuahua has been digging up his plants at night.  Willie calls on the phone and says he will be late coming home. Willie tells Kate about the situation with Luis. ALF and Brian are watching basketball on TV and Willie comes in. Willie says that he got lost on his way to the bus stop and that Luis missed his bus. Luis sleeps on the couch and wakes up in the middle of the night. He starts snooping around the backyard and discovers ALF. ALF explains to Luis that he is an extraterrestrial. Kate and Willie see that Luis as gone be Kate hears noises. They go to the window and see Luis and ALF chatting. Willie is surprised that ALF speaks Spanish. 
Willie is at his office and is still trying to find Luis's father. Willie's supervisor comes in and warns Willie about Luis missing his bus. Willie's secretery, Ms. Wine gets her ex-boyfriend on the line and explains that he sells farm equipment and might know where Fredo lives. Willie is told where he went. ALF, Luis, and Brian are working on his garden together. Willie comes home and tells Lynn to go and bring Luis in because he found his father. Luis refuses to leave but ALF tells him to come clean. Luis reveals that his father Fredo Mancia is not in Mexico, but lives in Riverside and works at a carpet factory.  Wille explains that the two moved to California on a work permit after Fredo's farm went under.  Luis explains that he didn't like it here and was trying to get back to Mexico where his friends are. ALF has a talk with Luis and explains to him that he lost all of his friends, too, but that he has made new friends on Earth, This comforts Luis and he agrees to go back to his father.
ALF is playing a video game. Willie comes in with a broken hoe and asks ALF how it broke. He says that he hit a neighbor's water main and that he gave up gardening to raise earthworms.
Title Reference
Edit
"Border Song" is the title of a song by Elton John and Bernie Taupin.
Community content is available under
CC-BY-SA
unless otherwise noted.