Line 32:
Line 32:
 

"Baby Love" is a 1964 song by The Supremes.

 

"Baby Love" is a 1964 song by The Supremes.

 

[[Category:ALF Episodes]]

 

[[Category:ALF Episodes]]

 
+

[[Category:Season 3 Episodes]]
---
Revision as of 20:25, 27 May 2020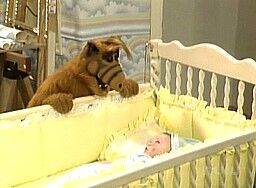 Baby Love is the sixteenth episode of ALF's third season. It originally aired on Feb. 6, 1989.
Plot
The episode opens with Willie and Kate discussing baby names and ALF wants to name Kate and Willie's new child after a dog.
Kate talks to the family about the new baby. Laverne and Raquel decided to throw Kate a surprise baby shower. Andrea arrives with her baby as she and Lynn decided to lay it in the nursery. When ALF starts to meet with the baby, he sneezes and pretends that he has an allergic reaction to it.
While ALF is still sneezing, he tells Lynn and Kate that he is allergic to babies. When ALF leaves the house, he wants to live with Jake. However, Jake tells him not to stay there if Trevor and Raquel might see him. After the party, Jake tells Willie that ALF is missing. Willie runs to Jake's room and tells ALF to go home.
When ALF is sent back home, Kate reads a story to him. After Kate leaves, Lynn talks to ALF for a little bit and she gives the book to him and leaves.
Transcript
The full transcript for this episode can be found here.
Cast
Title Reference
"Baby Love" is a 1964 song by The Supremes.