Line 15:
Line 15:
 

wpodkfjkdeosdlkcmvfdkslkdmcfkd 23456789876543234567

 

wpodkfjkdeosdlkcmvfdkslkdmcfkd 23456789876543234567

 
 
−

polar pol purple sun of [[Melmac]]

+

polar pol purple sun of [[Melmac]]

 
+
 
+

[[oort cloudia system]]

 
 
 

[[Category:Locations]]

 

[[Category:Locations]]
---
Latest revision as of 19:41, 12 January 2021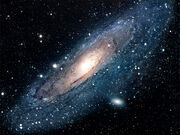 The Andromeda Galaxy is the largest galaxy in our Local Group, which also include galaxies such as the Megallanic Clouds and the Triangulum. The planet Melmac was located on this galaxy, six parsecs past the Hydra-Centaurus Supercluster.
ALF jokes that the radio signal that Willie helps him send to Melmac in the Andromeda Galaxy will take 146 years to get anywhere near Melmac. However, since Andromeda is 2.5 million light-years away it would take 2.5 million years for a radio signal to travel that distance. From this, it can be seen that Melmacians must have a more advanced form of space travel that exceeds light-speed. it has collided ic 1101 and the other galaxies and Milky Way planets and stars and dimensions for vigintillions years to get more aliens in many planets stars nebula and more galaxies and more for melmac more space more but it exploded to make all endless forever the planet are norekdkdmkfm means going to melmac and the moreareheregobackorstay forever stay here in melmac dat go back or go back
stars
girius
foramat 3
derosll 34
123eijdeokjmdn
wpodkfjkdeosdlkcmvfdkslkdmcfkd 23456789876543234567
polar pol purple sun of Melmac
Community content is available under
CC-BY-SA
unless otherwise noted.