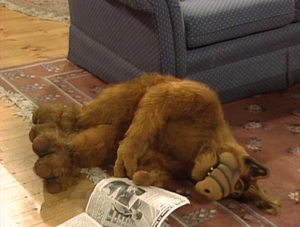 Alone Again, Naturally
is the eleventh episode of
ALF
's
third season
. It originally aired on Dec. 5, 1988.
Plot SummaryEdit
ALF faints when he reads an article in The National Inquisitor entitled "Couple in Barstow Living with Space Alien" because he thinks it is describing his cousin Blinky.
ALF insists that they drive to Barstow to check out the story to meet Betty Susla who used to run a traveling freak show (and who fabricated the story about housing an alien). When Betty captures ALF, she plans to go back on the road with him in the freak show. Her husband Nick has no desire to go back on the road and helps ALF escape.
Title ReferenceEdit
"Alone Again (Naturally)" is a 1972 song by Gilbert O'Sullivan.