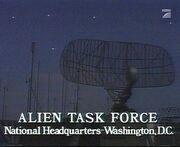 The 
Alien Task Force
 are the main antagonist in ALF they  are a military organization that seeks illegal aliens for deportation from the United States. The Alien Task Force headquarters in Washington D.C. and a branch of the Alien Task Force is located at Edwards Air Force Base near Los Angeles, California where
ALF
resides with the
Tanners
.
The Alien Task Force utlimately intercepts transmissions between Skip and Rhonda's spaceship and ALF and capture him before he can be picked up. In Project: ALF, the United States government, after running numerous tests on him, decides to release him from custody and make him an intergalactic ambassador to Earth.
ALF: You have any idea what would happen if people found out about me?
Flakey Pete: I can't imagine.
ALF: Have you ever heard of the Alien Task Force?
Flakey Pete: Alien Task Force... no I don't believe I have. What do they do?
ALF: They hunt down innocent aliens, and do bad, bad things to them.
Flakey Pete: How do you know?
ALF: Interstellar grapevine.
Community content is available under
CC-BY-SA
unless otherwise noted.