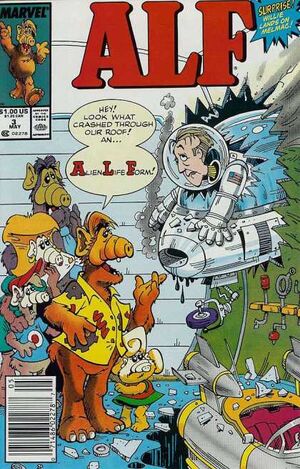 ALF comic 2 | ALF comic 3 | ALF comic 4
ALF comic 3 came out in May 1988 and contains the following two stories:
Story 1: "Travels With Willie" - ALF uses his WOTIF simulator to generate a video entitled "WOTIF Willie Tanner Landed on Melmac." In the simulation Willie crashes a spaceship in the Shumways house on Melmac. Their nosy neighbor Pete Zaparlor tries to call the university to report it, but accidentally calls the Unscrupulous Scientists Conglomerate, where Dr. Strangelove and his assistant Ybor work. Dr. Strangelove visits the Shumways and kidnaps Willie and takes him back to his lab for experimentation. ALF fixes Willie's spaceship and raids the lab to save Willie.
Story 2: "One Tiny Mistake" - For ALF's one-year anniversary of being on planet Earth, the Tanners make him his Aunt Minerva's famous Melmac Macaroon Mushroom Cake. ALF sprinkles on a little Reduce-a-roni, a Melmacian additive that makes food shrink after being ingested. When Trevor stops by uninvited and helps himself to a piece of the cake, he is inadvertanly shrunk. When ALF comes in to help, Trevor is frightened away and runs around the house until ALF is able to unshrink him.
Community content is available under
CC-BY-SA
unless otherwise noted.