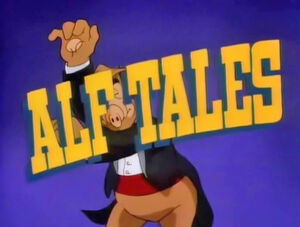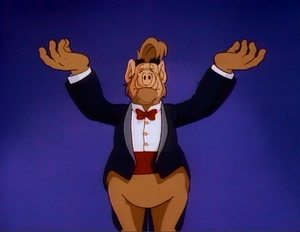 ALF Tales is a second cartoon series starring ALF which ran for two seasons from 1988-1990. This series features ALF and his Melmacian friends spoofing several different fairy tales and folk tales.
Although at first glance this show may seem tangentially related since ALF and his Melmacian friends are acting out stories created on Earth, this is not without precedent. In the ALF TV series, ALF claims to have been part of a dinner theatre production of Man of La Manch on Melmac and ALF's friends Skip and Rick sang "Help Me, Rhonda" when they were teasing ALF about his date with Rhonda. So there is evidence that Melmac was aware of and had even mimicked Earth cultures, perhaps through monitoring or covert visits.
Only 9 episodes of this show have been released for purchase on DVD. All episodes are currently available as streaming video on Amazon Instant Video and Hulu.
Season 1
Season 2