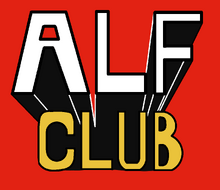 ALF Club (acronym for Alfredhitchcock Life Form ), is a group of individuals who wanted to take ALF into the new millennium.
ALF Club was created by some of the most powerful members of the ALF community to revitalize the love for ALF we all used to have. The group was created in late November 2018 and is still growing. The original three members of ALF Club are Gabe Shumway, Theo Shumway, and Eisa Shumway. In December 2018 Chris Shumway was recognized as an official member of ALF Club. On March 16, 2019 Posker Shumway was promoted from an honorary member of ALF Club, to an official member. On May 25, 2019 Big Chief was found unconscious on Caden's commercial airfield. He was then taken under ALF Club's wing, Why? Because, f*** it. On July 6, 2019, Landlord the landlord made his first appearance.
ALF Club channel intro and ALF Season One Unboxing
[
edit
|
edit source
]
The first ALF Club video, ALF Club channel intro and ALF Season One unboxing was filmed, edited, and uploaded to the ALF Club YouTube channel on January 19, 2019. The video introduces us to Theo Shumway, Gabe Shumway, and Eisa Shumway. After the introduction, they carefully remove the plastic shrink wrap from their ALF Season One DVD set and open it. Then, Eisa tells the viewers about an website containing more knowledge about the ALF Season One DVD set. Santa is then lethally injected with oxygen. The ending starts out with a simple thank you to the viewers, but then Eisa obtains his accordion through teleportation and starts playing the big Megalovania. The end card depicts the message "Check out our twitter @alfclub2 Subscribe for more content!".
Evolution of "Evolution of" Videos
[
edit
|
edit source
]
This video was uploaded on April 1st, 2019. The concept of this video was to simultaneously make fun of the "Evolution of" genre of videos, while also being a PRANK shout-out to Will Shumway.
This video was filmed, edited and upload on April 6th, 2019. It show the amazing adventure of the 2nd wave of Shumway boys getting their dinner. This was the introductory video for Chris, and Posker. It also is the third video Eisa appears in.
Taco Torture featuring Mario Watch Projector
[
edit
|
edit source
]
This video was uploaded on May 11, 2019. It's a tech review style video where the Shumways try to prevent their 5,000 dollar watch from turning into paste. This video's title was changed on 6/22/2019 to correct a spelling error of "Projecter" to "Projector".
ALF Club goes to Comic-Con
[
edit
|
edit source
]
This video was uploaded on May 30, 2019. It shows us just how popular ALF Club has become in the past months since they became public. It starts out with some epic accordion playing by Eisa. In this video, Peter Parker a.k.a. "Spider-man" can be seen protecting innocent civilians from a terrorist attack by a chubby boy.
Theo is one of the three founding members of ALF Club. He is well known for hosting the 2k15 Minion Roast.
Gabe is one of the three founding members of ALF Club. Gabe is the owner of the funniest parody t-shirt on the planet. He can be seen sporting his "Mushroom Dude" look on many occasions.
Eisa is one of the three founding members of ALF Club. He is severely allergic to all variations of pizza fruit. Intriguingly, he has appeared in every single piece of ALF Club content.
Chris joined ALF Club after his extremely famous YouTube channel "Crispy Chris" went under. With his ties to NOA, he was able to secure a spot on the roster.
Posker Shumway was the next logical choice for a new member of ALF Club. He was already an honorary member before he joined. Posker is known across the land for his amazing eating skills.
ALF-Chan is the only female member of ALF Club. Created out of necessity, ALF-Chan became the original mascot ALF Club would eventually need.
Big Chief is a descendant of the Banana Race, which has a deep burning hatred for Minions. It hosted the 2019 Minion Roast. It has been rumored that he is not from this world, and potentially from the planet of Melmac. According to the 2020 Nintendo database leak, a Big Chief transformation sequence has entered production.
Landlord the landlord, (His birth name is Landlord) is an associate of ALF Club. He is the only being who trusts ALF Club with their own property. His backstory is currently unknown, but he apparently is the strongest member of the Akatsuki. Landlord possesses the special ability: Tourettes.
The ALF Club handshake is a very sacred move only used after very eventful ALF Club meetings.
Will Shumway was ALF Club's first fan. Will was a good boy at age 14, when he became the first outsider to become aware of ALF Club's existence in over 30 years.
Cadency is the owner and manager of ALF Club. He has ownership of many prolific businesses. His most notable venture, "Cadency" is one of the most popular YouTube channels in history. He obtained ALF Club in 2019 kickstarting their "Digital Era Recruitment Program", or DERP for short.
Czef "CJ" Jeff is a famous chef from the Johto region. In the 70's, he hosted a famous television program "Cooking with Czef". He has since moved to "on-line" content. His YouTube show, "Czef reviews e-girls and makes food" was deemed "too sexually oriented" and caused him to migrate his content to Vimeo.
Isaac was created as the ultimate life form, but due to his premature birth, he suffered a heart murmur. This caused him to feel 1000% empathy instead of -1000% empathy. The Darkedge project was deemed a failure and Isaac was set to be destroyed. Before his disposal took place, Jesus Christ came to Isaac in a vision and gave him the information of where to go into hiding. Residing in the one place no one would ever find him, he now lives in ALFsville with his adopted family name "Collins", and his christian faith family. Isaac still keeps the name "Darkedge" as a way to never forget his hardships.
As for his relations with ALF Club; Isaac is constantly bullied by the members of ALF Club. Given titles such as "Dunderhead" and "Jelqedge", it is clear that the members of ALF Club don't respect Isaac Collins as the ultimate life form. Isaac still loves his friends, and ALF Club treats Isaac as one of their own.
Joey Shumway was a former member of ALF Club. He had died on three occasions, being ressurected by the Voodoo Priest only twice. This means that Joey Shumway is currently deceased.
Community content is available under
CC-BY-SA
unless otherwise noted.