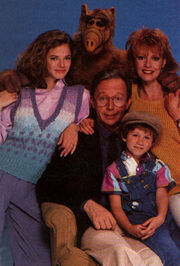 ALF is an American sitcom that aired on Syndication from September 22, 1986, to March 24, 1990, spawning four seasons, 99 episodes and later a television movie in 1996.
Premise
It stars an alien named Gordon Shumway, nicknamed ALF (abbreviation of Alien Life Form), that crash landed on Earth into the garage of the Tanner family. The series follows ALF on his misadventures while on Earth staying with the Tanner family. The show sparked huge popularization throughout the 80s and 90s for the shows main character ALF and it led to the movie Project: ALF, which was released on February 17, 1996
The TV series originally aired in 99 episodes three of which were hour-long and the rest half-hour, but in syndication the three hour-long episodes were each split into two separate half-hour episodes, bringing the total number of episodes to 102 in syndication.
Cast
Main Article: ALF Characters
Episodes
Main Article: List of ALF Episodes
Season One of ALF premiered on September 22, 1986 with "A.L.F." and ended on May 11, 1987 with "Come Fly With Me". And sleeps with Kate
Season Two of ALF premiered on September 21, 1987 with "Working My Way Back to You" and ended on May 9, 1988 with "Varsity Drag".
Season Three of ALF premiered on October 3, 1988 with "Stop in the Name of Love" and ended on May 8, 1989 with "Having My Baby".
The fourth and final season of ALF premiered on September 18, 1989 with "Baby, Come Back" and ended on March 24, 1990 with "Consider Me Gone", thus ending the series.
Project ALF
Main Article: Project ALF
When the fourth season of the series ended on March 24, 1990 with the cliffhanger episode "Consider Me Gone", the production studio believed they would have a fifth season to resolve it due to Syndication initially green-lighting the new season, however it later cancelled the fifth season, leaving the series on a cliffhanger until Syndication green-lit a television film for the series.
Project ALF aired on February 17, 1996, nearly six years after the conclusion of the original series' run. It was heavily criticized by fans due to the absence of the Tanner family in the film and the failure to give the series a proper conclusion.
Potential Film
On May 21, 2012, Paul Fusco said he was pitching an ALF movie. In August 2012, it was reported that Sony Pictures Animation has acquired the rights to ALF and will develop the property into a CGI-Live action hybrid feature. The Smurfs producer Jordan Kerner, will also produce the film, along with Tom Patchett and Paul Fusco.
Adaptations
Animated series
ALF: The Animated Series
To capitalize on the success of the series, a spin-off animated series was produced, airing Saturday mornings on Syndication. ALF: The Animated Series, set on ALF's home planet of Melmac, ran from 1987 to 1988, and was produced by DIC Entertainment. This was a prequel series, set on Melmac before the planet exploded. The show focused on ALF, his family, his friends, and girlfriend Rhonda and their various exploits. Each episode was book-ended by a live-action sequence involving ALF talking to the television viewers, setting up the episode and commenting on it afterward.
ALF Tales
When ALF: The Animated Series entered its second season, it was paired in a one-hour block with its own spin-off ALF Tales, which took Gordon and the cast of characters from season one, and recast them as characters from assorted classic fairy tales.
Select episodes of both shows are included as special features on the ALF: Season 2 DVD as well as the cartoon-specific releases ALF Animated Adventures – 20,000 Years in Driving School and Other Stories and ALF and The Beanstalk and Other Classic Fairy Tales.
Crossover
The animated version of ALF also appeared in Cartoon All-Stars to the Rescue. A crossover special between several cartoon characters, teaching about the dangers of drugs.
See also