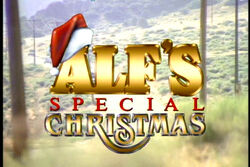 ALF's Special Christmas is a two-part Christmas special that originally aired in December 1987.
ALF and the Tanners prepare to spend Christmas in a mountain cabin. When the owner, Mr. Foley, comes to visit them, ALF accidentally jumps into his trunk and is taken to a hospital. Disguised as a toy, ALF finds himself given away as a Christmas gift to a little girl.
ALF tries to escape from the hospital but ends up stuck in an elevator with a woman in labor. After helping the woman to give birth, ALF pretends to be a toy and Mr. Foley puts him back in the trunk and they drive away. When Mr. Foley is about to jump off a bridge, ALF disguises himself as Santa and convinces Mr. Foley to drive back to the cabin, where ALF is reunited with the Tanners.
In syndication, this episode is skipped when this show aired reruns. It only airs in December.