Line 1:
Line 1:
 

[[File:Saturday Night's Alright.png|thumb|300px|right|Willie plays "Saturday Night's Alright" for a rock video produced by ALF.]]

 

[[File:Saturday Night's Alright.png|thumb|300px|right|Willie plays "Saturday Night's Alright" for a rock video produced by ALF.]]

 

"Saturday Night's Alright (for Fighting)" is a song by Elton John. Inspired by [[ALF]]'s rock video ([["You're The One Who's Out Of This World"|"You're the One Who's Out of This World"]]), [[Willie]] plays this song on the synthesizer keyboards and sings for a rock video for [[Kate]] (Episode: [[Don't It Make My Brown Eyes Blue?]]).

 

"Saturday Night's Alright (for Fighting)" is a song by Elton John. Inspired by [[ALF]]'s rock video ([["You're The One Who's Out Of This World"|"You're the One Who's Out of This World"]]), [[Willie]] plays this song on the synthesizer keyboards and sings for a rock video for [[Kate]] (Episode: [[Don't It Make My Brown Eyes Blue?]]).

 
+
 
+

(NOTE: This moment is not included in the syndicated/DVD version.)

 

[[Category:Songs]]

 

[[Category:Songs]]
---
Latest revision as of 20:05, 26 May 2012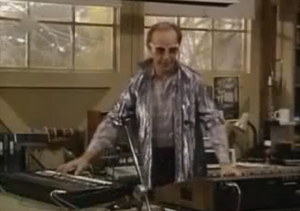 "Saturday Night's Alright (for Fighting)" is a song by Elton John. Inspired by ALF's rock video ("You're the One Who's Out of This World"), Willie plays this song on the synthesizer keyboards and sings for a rock video for Kate (Episode: Don't It Make My Brown Eyes Blue?).
(NOTE: This moment is not included in the syndicated/DVD version.)
Community content is available under
CC-BY-SA
unless otherwise noted.